About me
My name is Matthew Herrera and I will be in the graduating class of 2018. In elementary school I was in the GATE program and I switched from my old school because my previous elementary school didn't provide GATE classes. When I promoted from elementary school to middle school, I moved to the brand new middle school called, High Tech Middle Chula Vista. I feel in love with the High Tech community because you learn by project based learning. I hope to make my high school experience as best as I can.

I like to spend my free time hanging out with friends and playing video games. I also enjoy watching and playing soccer for fun. A life goal for me is to travel around the world and explore the different cultures countries have and also their amazing landscapes they've built.

Powered by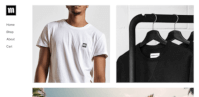 Create your own unique website with customizable templates.